The Village Model provides a collaborative, community-based approach to building and sustaining permanently affordable places to call home.
It's a form of resident-owned housing that ensures long-term affordability, eases displacement pressures, builds community wealth, and reduces the cost and environmental footprint of housing.
For more information about the Village Model, visit https://www.villagemodel.org.
The Village Model reimagines housing in four key ways:
Physical Form: Building Small & Green Infrastructure
Ownership Structure: Cooperative Land Trust Housing
Finance Strategy: A Sustainable Mix
Collaboration: Affordable Together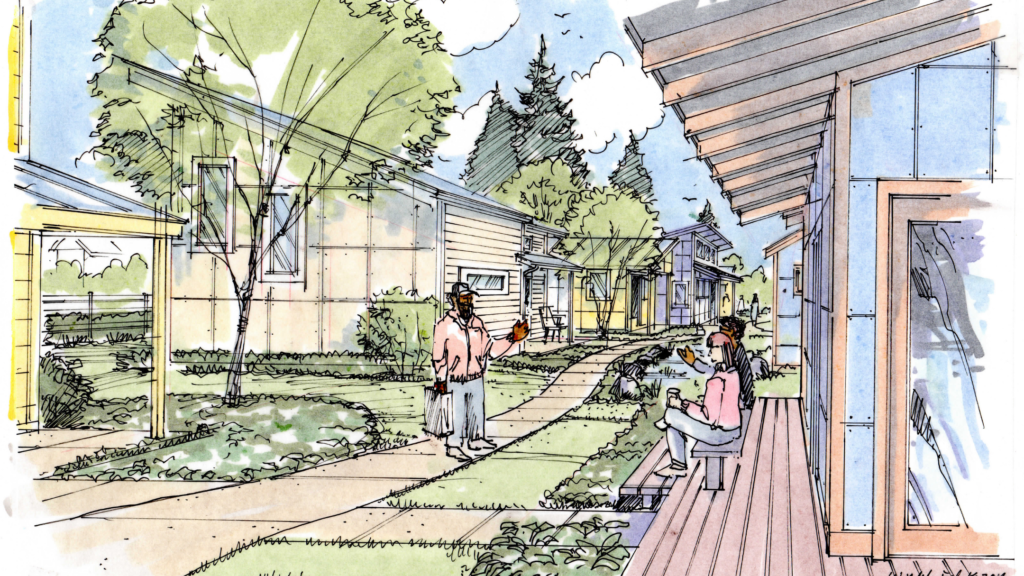 ecoTHRIVE Housing is developing permanently affordable villages for individuals, couples, and families.
In addition to the individual homes, Villages will have ample community amenities such as gardens, play areas, gathering areas, open space and a common house. The common house will serve as a welcoming beacon for the village and will include a large kitchen, dining/meeting space, bathrooms, storage, laundry facilities and more.
Households each pay a share of the mortgage, based on the size of their cottage. Their monthly payments are stable for as long as they live in the village and when they sell, they receive their initial down payment plus modest equity.
The village combines two forms of shared-equity home ownership to create stable, permanently affordable housing.
Each resident-owner buys a share in the limited equity cooperative (LEC) with a deed restriction (future residents need to be income-qualified when they buy in) to create stable, permanently affordable housing.

The cost to build the village (land + materials + labor) is often more than what people earning low or middle incomes can afford. EcoTHRIVE works to raise funds to bridge the gap between actual development costs and what's affordable (⅓ of income for housing costs.).

This one-time capital subsidy not only benefits the first generation of resident-owners, but every generation after them because buyers of future resales need to be income-qualified. This makes the villages permanently affordable. For example, in the Burien Village, resales are limited to people earning 50% of the area median income. 
EcoTHRIVE villages provide a solution to climate adaptive living.
Beautifully designed homes with energy-efficient features and small footprints.
Built green with rainwater catchment systems, passive house strategies, and edible landscaping to lower living costs and collaborate with natural systems.
Each cottage has a patio or porch to extend residents' living spaces beyond the interiors of their homes to connect them to their neighbors and to nature.
Shared community spaces and resources encourage prosperity, health, and friendships.
Our village model will nurture community and connection. We build beautiful homes and generous common spaces nestled within a permaculture landscape that connects residents to nature and each other.
Shared community spaces and resources provide significant economic, health, and social benefits. Democratic self-governance gives each resident-owner a voice in decisions that impact them.
Instead of a cash HOA, residents agree to contribute "energy hours" towards maintaining the built and social environment, depending on needs of the community and the skills and interests of each resident.
Each Resilient Village will have its own self-determined goals with supportive action plans, ultimately contributing to a thriving network of unique, sustainable communities. As our research continues and our partnerships expand, we will work with resident-owners to set additional metrics that align the following shared values: economic, ecological, social and cultural sustainability.

We currently have set the following overarching metrics for success
100% of residents participate in decision-making
Community Agreements will be created in collaboration with resident-owners. ecoTHRIVE Housing uses Sociocracy as our decision-making process.
Energy use reduced by 85%
By maximizing energy efficiencies and installing a renewable energy infrastructure such as solar, each village will aim to be net zero, producing as much energy as it consumes. This will help reduce carbon emissions and promote best practices to reduce the impacts of climate disruption.
Personal food costs reduced by 25%
Village owner-residents will have access to food grown on site for personal use, reducing food cost and increasing access to fresh, organic fruits and vegetables.
Income-earning and educational opportunities for residents and neighbors
ecoTHRIVE Housing, through community partners, will provide educational & skill-building workshops to support community-building and income-producing opportunities, as well as joy in life (i.e. democratic decision-making, permaculture, commercial and artisanal food production, construction, landscaping, art making).
Resource use is twice as efficient than that of a typical single-family home
Water catchment systems, recycling, composting and other technologies will reduce consumption of valuable natural resources.

Our goal is to create a beloved community, and this will require a qualitative change in our souls as well as a quantitative change in our lives.
—Martin Luther King, Jr.