Beautiful, small homes & generous common spaces nestled in a lush landscape of native and edible plants, connecting residents to nature and each other.
EcoTHRIVE is building housing that centers community in a beautiful, affordable and resilient village that will thrive in a changing climate. Our first resident-owned village is being developed on 1.8 acres of land in Burien, Washington under their Affordable Housing Demonstration Program.
The village will include 26 beautiful, architect-designed ecoCottages and a Common House, nestled in a lush landscape of native and edible plants. The cottages will consist of studios, 1 bedroom/1BA, 2 bedrooms/1BA; ranging in sizes from 320 SF to 650 SF.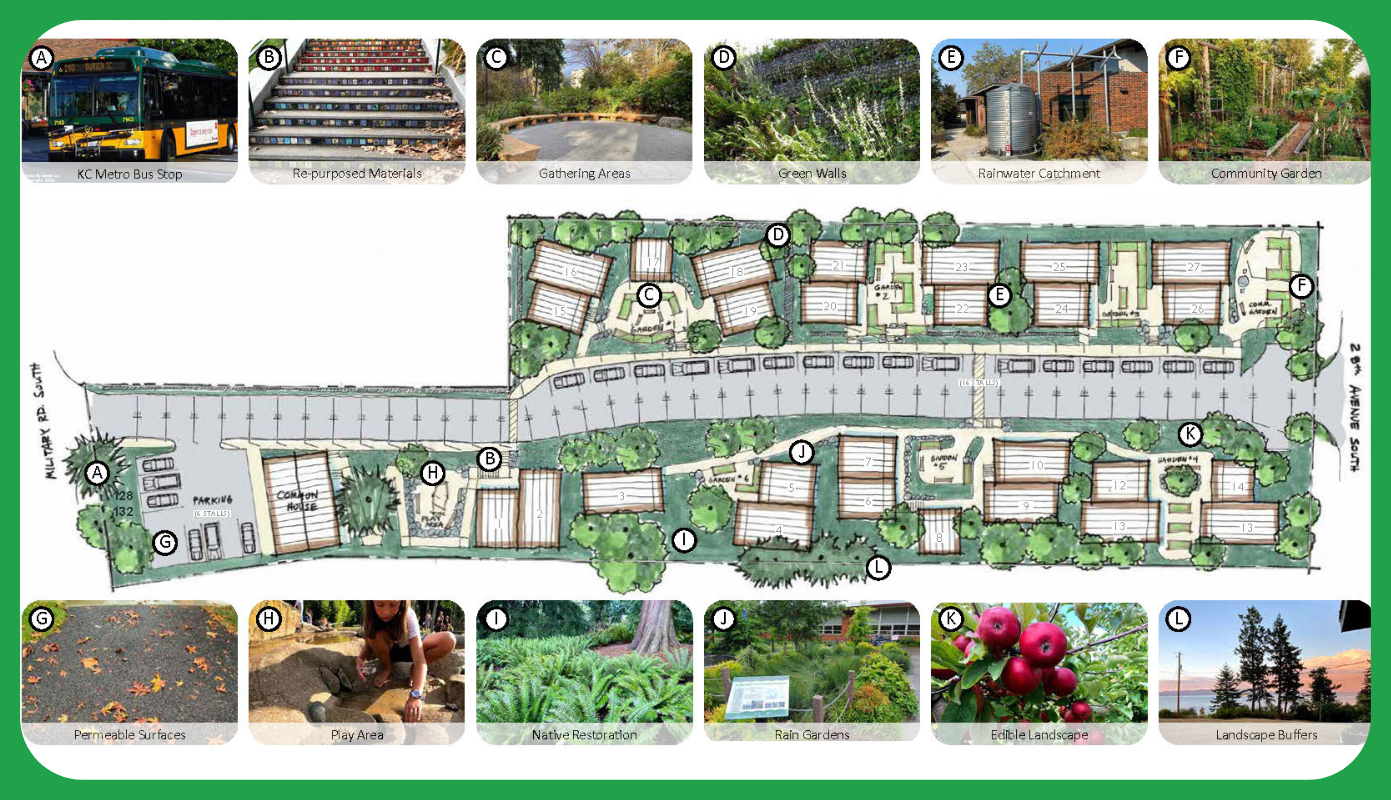 Currently, we are raising money for land and soft costs
, including site assessments, architect site plans and engineering fees. Raising $1.5Mil in philanthropy unlocks the door to getting conventional financing that will fund the entire project!- approximately $5.5Mil.
Every donation helps us reach our goal. Join us in building homes where people and nature can thrive together– today and for generations!
ecoTHRIVE Housing is developing permanently affordable villages for individuals, couples, and families.
The cottages will be a mix of studios, 1-bedrooms and 2-bedrooms, which will each include a living area, kitchen and bathroom and range in size from 320 – 650 square feet. The cottages will be arranged in small clusters within the larger village. 
In addition to the individual homes, there will be ample community amenities such as gardens, play areas, gathering areas, open space and a common house. The common house will serve as a welcoming beacon for the village and will include a large kitchen, dining/meeting space, bathrooms, storage, laundry facilities and more.
The village combines two forms of shared-equity home ownership to create stable, permanently affordable housing.
Built for residents earning up to 50% AMI*, each resident-owner buys a share in the Limited Equity Cooperative (LEC).
EcoTHRIVE, as a Community land Trust (CLT), owns and stewards the land in perpetuity.
LEC + CLT = Permenantly Affordable Housing
* Area Median Income for King County in 2022 is $115,700 per year, so 50% AMI is earning around $52K/ Yr
EcoTHRIVE villages provide a solution to climate adaptive living.
Beautifully designed homes with energy-efficient features and small footprints.
Built green with rainwater catchment systems, passive house strategies, and edible landscaping to lower living costs and collaborate with natural systems.
Each cottage has a patio or porch to extend residents' living spaces beyond the interiors of their homes to connect them to their neighbors and to nature.
Shared community spaces and resources encourage prosperity, health, and friendships.
Our village will provide a solution to community and connection. We are building beautiful homes and generous common spaces nestled within a permaculture landscape that connects residents to nature and each other.
Shared community spaces and resources provide significant economic, health, and social benefits. Democratic self-governance gives each resident-owner a voice in decisions that impact them.
Together we build a village.
Together we shift culture.
Together we shape the future we want to live in.