EcoTHRIVE Housing is a community-led community land trust developing affordable, resilient villages that address people's fundamental needs and foster community.
We envision vibrant, affordable communities where people are connected with nature and with each other.
Collaborating to create resilient villages.
While housing affordability is the immediate crisis that drives ecoTHRIVE, our community-building approach addresses the deeper roots that underpin the crisis:
The deep need for equity and justice, particularly the need for racial justice in a society growing more unequal and fractured.

The intensifying climate crisis, which in our region is worsened by housing costs that drive low-to-moderate income people out of the city, away from areas well served by transit, driving up transportation emissions, the region's largest source of carbon pollution.

The deep need for connection to ourselves, each other, and nature.
We've formed a community land trust to create pathways to ownership that are accessible to people earning low incomes, now and for future generations.
We are moving past traditional affordable housing models—that often displace and isolate people—to build a more collaborative approach that meets human needs while addressing climate and ecological sustainability.
The vision of a resilient village came from our conversations with community members—at farmer's markets, community festivals, local parks and homeless encampments throughout King County.
We began each conversation by asking two questions:
What do you need to thrive?
What do you value?
Through hundreds of conversations, people consistently told us they need:
Things that feed the body—water, food, shelter
Things that feed the soul—art, beauty, community
The vision that emerged was a village that thrives in a culture of mutual aid, shared resources, interdependence and beauty. With resilience as a touchstone, we began plans for villages that will withstand the impacts of economic downturns, climate disruption, and food insecurity.
Further research into affordable communities led us to SquareOne Villages in Eugene, OR. They became our trail-blazing mentors and we have adopted their successful Village Model.
The 4 elements of the Village Model are:
BUILDING SMALL & GREEN
COMMUNITY-LED & COLLABORATIVE
AFFORDABLE OWNERSHIP
SUSTAINABLE FINANCING
EcoTHRIVE Housing is a community-led community land trust that formed to address the housing crisis in King County. We came together to create resident-owned villages of homes that are permanently affordable.
We are working with Dara Ith and her team at Utopia Design. They bring 30+ years of knowledge and experience developing real estate – residential, commercial, and mixed-use – throughout the region. 
Our team is a racially, ethnically, and religiously diverse, and it is includes people who have experienced homelessness, trauma and housing insecurity. We have all experienced the power of community to overcome challenges.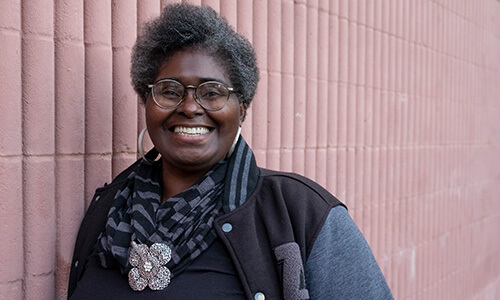 Zsa Zsa organized the first homeless march in Eugene, Oregon. "I had $1800 in my pocket and two jobs but no one would rent to me. I was living in a Pinto with 3 kids." She worked with the head of the NAACP to bring attention to local racial and economic injustice and was appointed to the Springfield (OR) Human Rights Commission where she served for a 4-year term.
After experiencing too many years of homelessness, Zsa Zsa moved into Camp Second Chance in South Seattle where she quickly became a respected leader and board member. She was trusted to mediate conflicts and counsel campers. She describes her role as "Creating a community where people felt safe and at least liked, if not loved, although love is best. And I listened because everything matters." Zsa Zsa also used her considerable administrative skills to set up the camp's first bookkeeping system and database.
Zsa Zsa has since moved into permanent housing and continues to advocate for people experiencing homelessness. She began as a consumer advocate for the Community Advisory Group (CAG) of the Seattle/King County's Health Care for the Homeless Network (HCHN) and was voted onto the Executive Committee. Zsa Zsa currently serves as Vice Chair where she develops agendas for the executive board, determines training needs and facilitates meetings, in addition to her outreach work on the streets.
Building community isn't just a strong value for Zsa Zsa, it's part of her DNA. Her grandmother's family was one of the first Black families in Eugene. Prior to moving into town, they lived in a tent city along the Willamette River. At that time Black people were not allowed to live within the city limits. In the 1960s, Zsa Zsa's grandmother Mattie Reynolds ran for Eugene City Council and now has a city park named after her, honoring her commitment to social justice. As Zsa Zsa says, "This is where my sense of empowerment comes from." Zsa Zsa graduated with honors from Sanford-Brown College in 2009.
"We were oppressed and depressed, but we had one another to raise each other up"
—Mattie Reynolds, Zsa Zsa's grandmother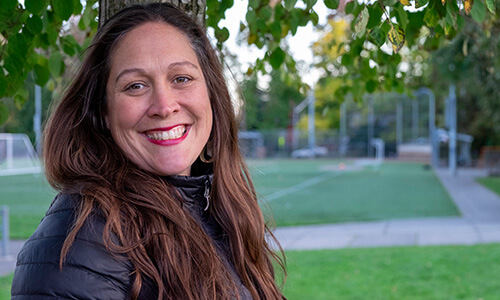 Susannah, currently a fundraising consultant, has over 15 years of fundraising and partnership investment experience. She has led fundraising campaigns for environmental justice and land conservation efforts, including working closely with donors and tribal councils to secure over 4,000 acres in Kitsap County at the Port Gamble Forest.
Prior to fundraising, Susannah spent a decade running large-scale art fairs and events for a commercial art and design college.
Susannah is committed to doing work that advances a more sustainable world and more equitable society. She is passionate about the intersectionality of economic justice, land conservation, the right to housing, food sovereignty and Native land rights.
Susannah also serves on the Board of Directors for the Port Gamble S'Klallam Tribe Foundation.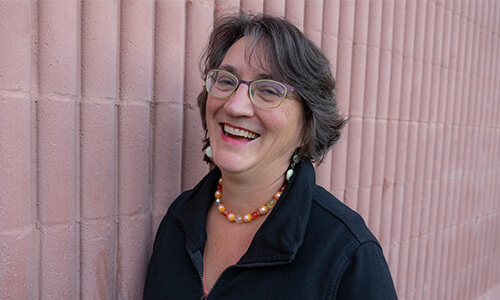 Board President & Co-Founder
Denise Henrikson is a community builder and cultural animator. Her creativity and persistence has helped launch many enduring cultural happenings in the region. Her faith in humanity remains strong.
She helped organize the first twenty Fremont Summer Solstice Parades and helped build the Fremont Troll. She taught the lantern workshops that launched what is now the annual Luminata Lantern Festival at Green Lake.
Denise initiated the Village Project, an elementary school program where students applied academic lessons around creating classroom businesses, including worker-owned cooperatives. Local business owners mentored the classrooms' start-ups. The program ran for 25 years..
Denise's success in building joyful community coalitions led to a career in workforce development for the US Department of Labor & Job Corps. She coached multi-stakeholder partnerships for education and training programs throughout the country, using asset-based assessments and appreciative inquiry to connect people to their passion, strengthen programs, and inform policy.
In 2007, she founded Arts A Glow, an annual lantern festival, in collaboration with the city of Burien. In 2015, she led the Salmon Is Life performance troupe to Paris for the COP21 climate talks. It was there that she had a revelation into the interconnection of climate change, food sovereignty and attainable housing.
The seed of ecoTHRIVE grew from Susan Russell, an artist and Real Change vendor. She had a vision of making art with people experiencing homelessness. Susan and Denise went on to host over 40 art pop-ups at homeless encampments and public spaces throughout King County. They asked "What do you need to thrive?" Listening to hundreds of people tell of heartbreak and resilience was life-changing. Susan and Denise were inspired to convene the ecoTHRIVE team with a mission to create affordable, beautiful villages where people have the time and security to thrive.
In the spring of 2019, Denise approached the city of Burien with a proposal. She needed zoning flexibility to build a small cottage village. The City passed the Affordable Housing Demonstration Program in November 2019 which created a pathway for the ecoTHRIVE project and other missing middle housing.
Denise holds a Master's Degree in Human Development from Pacific Oaks College and a BFA in Textiles/Crafts from Virginia Commonwealth University. She knows that we are all made of stardust.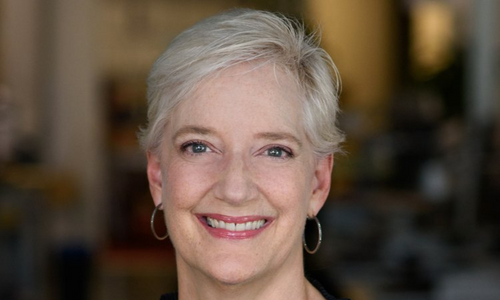 With Bachelor's degrees in political science and interior design, and 20+ years as a copyeditor and project manager, Katie Hogan (she/her) brings a unique and varied background to her role as Project Manager & Interior Designer at Schemata Workshop. Katie is passionate about affordable housing and creating beautiful, equitable spaces that are welcoming and inclusive. Katie is an invaluable member of our Built Environment Circle, which she joined shortly after volunteering at ecoTHRIVE's booth at the 2021 Seattle Design Festival. She is the lead facilitator for that circle's meetings, has contributed detailed research on design guidelines and the application of biophilic design in the village, and has used her background in interior design to help us refine our unit and common house designs, among countless other contributions.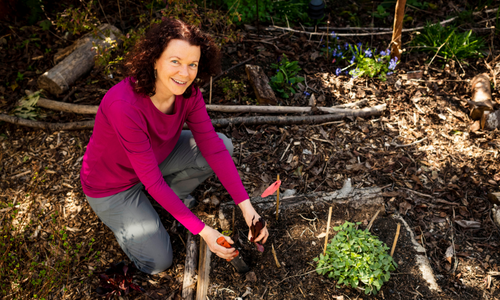 Kimberly Leeper, a Seattleite since 1995, is a garden educator, plant and wildlife enthusiast, and regenerative landscape consultant who specializes in food forests, Pacific NW native plants, and beneficial wildlife habitats.
She has a background in school psychology; teaching and learning with children and adults in schools and the forest; community organizing for collaborative emergency preparedness; volunteering with community gardens and plant-related endeavors – Beacon Food Forest for the past 10 years and leading natural landscaping companies for 18 years – currently – Working With Nature. These days Kimberly focuses on consulting, coaching projects, and instructing classes. She loves inspiring people to think more holistically about their landscapes, and create an oasis with lots of foraging opportunities close to home!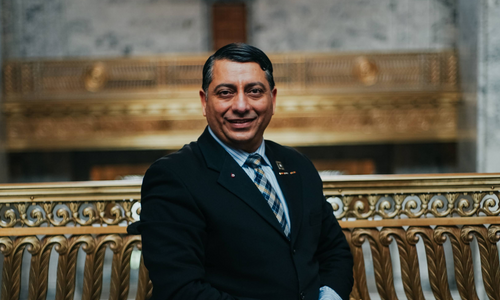 Zahid Chaudhry is a decorated, service-disabled US Army veteran indigenous to South Asia. Over the course of 25+ years in Washington State, Zahid has meaningfully contributed to dozens of social justice, housing, and community development organizations, bringing a keen strategic mind, empathetic counselor's heart, and depth of financial expertise to strengthen and advance our shared vision of the beloved community.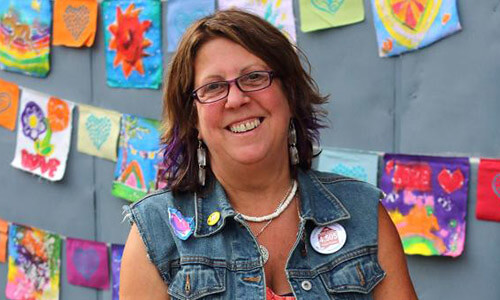 Advisory Board Member & Co-Founder
Susan is a Real Change vendor who experienced 7+ years of homelessness in Seattle/ King County. She is a requested keynote speaker advocating for human rights, and was awarded the 2018 Real Change Change Agent Award for her work bringing people together through Art, Compassion, Love and Action. Currently, Susan serves as the Program Coordinator for the Phinney Neighborhood Association's Hot Meals program where she leads a team of volunteers who feed people experiencing homelessness and food insecurity.
In 2016 she co-founded Love Wins Love, to bring people together—homeless and housed—to make art and share stories and ideas for reimagining housing. The conversations generated through Love Wins Love planted the seeds from which EcoTHRIVE Housing has grown. Susan is passionate about creating affordable housing solutions and rebuilding the community as a whole.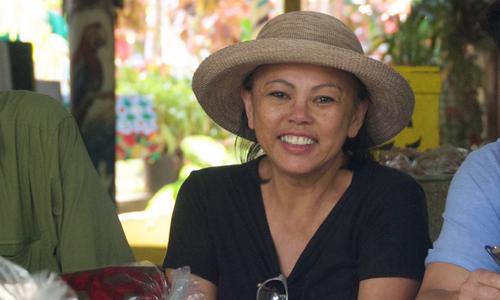 Real Estate Developer/Designer
Dara Ith is a local real estate developer known for developing projects that offer quality and custom design details without sacrificing affordability.
In 1987, she co-founded Utopia Design+Develop with Sisarith Ith who holds a PHD in architecture from Ecole Des Beaux Art, Paris, France. Over the past 30 years, they have developed residential, commercial and mixed use projects throughout the Puget Sound region.
Dara joined the ecoTHRIVE team in the spring of 2022. Since then she has led the development of ecoTHRIVE's pilot village under Burien's Affordable Housing Demonstration Program. She conducted the market analysis and built financial models that confirm the project's viability. Dara then found suitable land, negotiated the acquisition, designed the project direction, and put together a talented team of consultants.
Dara brings a wealth of experience and connections with financial institutions and local jurisdictions. She is passionate about creating quality homes that are affordable for people to own and grow their financial opportunities.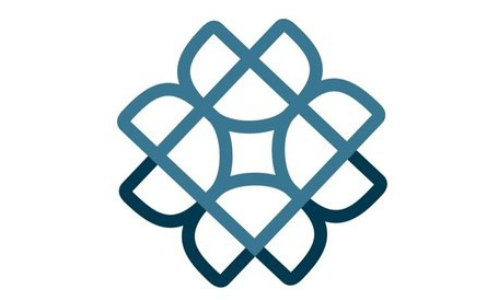 Environmental Works, a nonprofit Community Design Center, empowers Washington's most vulnerable people and communities to create the spaces they need to succeed. Our team provides custom planning, architecture, and design services to WA nonprofits through a collaborative design process that ensures their unique needs are met. People and Places Matter!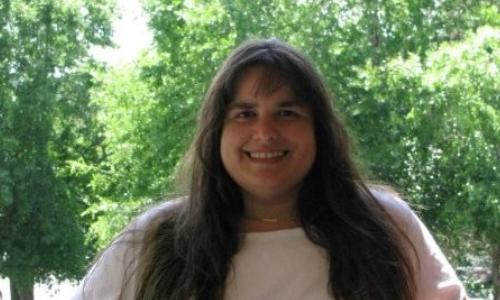 We are in business because it's going to rain! We are a small firm that specializes in stormwater engineering. We do site plans, drainage plans, and temporary and permanent erosion plans for residential, commercial and municipal clients.
I have 20 years of experience with roadway drainage, bridge hydraulics, and scour analysis. I am licensed in Illinois, Florida and Washington.
MWBE/DBE Certified, SCS Certified
Specialties: Residential and Small Commercial Stormwater Permitting, Roadway Drainage, Bridge Hydraulics, Detention Pond Designs, Erosion Control, and some roadway design.
Communications Consultant
Urban Planning & Design Advisor

SquareOne Villages (SOV) has been an invaluable inspiration and support. SOV builds affordable villages in Lane County, Oregon. The Village Model is an innovative ownership structure SOV is implementing that brings together two forms of shared-equity homeownership—a Community Land Trust and a Limited Equity Cooperative. 
Our immense gratitude goes to the Taubman Foundation for believing in our vision and our ability to carry it through.
Together we can shape the future of housing in King County. 
We've conducted extensive community outreach and integrated the input we've received into the design of our affordable cottage village. This collection describes our outreach events, dates, methods, results, and documentation of each event/ activity.
We've been featured in some exciting articles and press releases throughout our development process! Here's a round-up (sorted by date).
Explore the list of past newsletters below to learn about ecoTHRIVE's evolution and path ahead.

You cannot change any society unless you take responsibility for it, unless you see yourself as belonging to it and responsible for changing it.
—Grace Lee Boggs